Inspiration Trust students break through to Cambridge
Back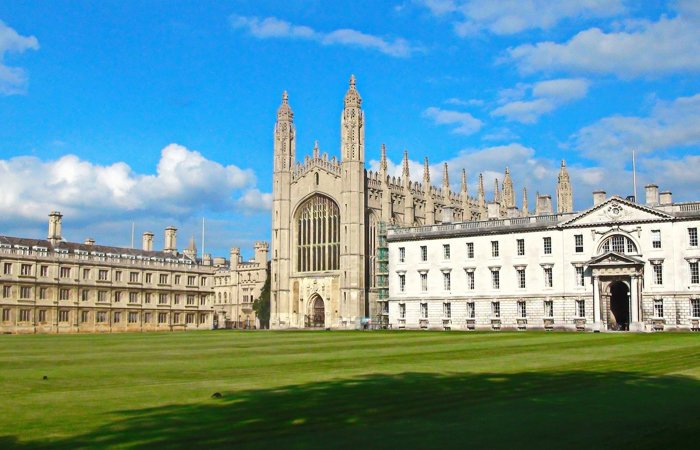 Published on 29/09/20
The Inspiration Trust is all about creating opportunities for young people, and helping them to find their way towards a wonderful future, whatever their background or starting point.
And in this very strange and disrupted academic year, what illustrates this message better than two students from Great Yarmouth starting their undergraduate courses at the University of Cambridge.
Keeley Roe and Phoebe Harvey have been friends for years, but little could they imagine making the journey from their arrival in year 7 at Great Yarmouth Academy, to the hallowed halls of Cambridge. In both their opinions, their secondary school was a very different place before The Inspiration Trust took over and began to offer something different.
The story is very familiar, both Keeley and Phoebe enjoyed their time at Great Yarmouth, but knew their experience was different. On the positive side, they were in top sets and benefitted from some great teaching. In most cases, they were fortunate enough to be taught by enthusiastic and experienced Heads of Department through the whole five years of their time at the school. Despite this consistency, they were aware that changes were necessary. Different headteachers each year, and behaviour issues that didn't seem to go away. In their words: change was needed to benefit the school and the wider community.
That change came with The Inspiration Trust as they were about to join Year 11. Contrary to the usual criticism of Academy takeovers, the teaching staff didn't really change. Keeley and Phoebe were grateful for that stability, but were struck by the sudden behavioural change. "I have a younger brother who is in the first Charter cohort," says Keeley, "and the improvement is exponential." They both acknowledged the change in behaviour and the "surreal" but very welcome impact of the Charter guidelines and rules.
Providing the right environment for their teachers to teach seemed to be the key ingredient, and both girls talked enthusiastically and fondly of the great staff that built their confidence, encouraged their public speaking, and generally supported them through all the changes and the rigours of their GCSEs.
Phoebe's choice to read Theology at Cambridge was inspired by her Religious Studies teacher at Great Yarmouth, whose open, enquiring, and human approach to the subject clearly lit a fire.
Keeley's English teacher also deserves a mention for teaching after serious damage to her vocal chords - we all can admire how hard it must be to inspire year 11s with only sign language and the good will of the classroom - truly heroic.
Without a Sixth Form to attend at Great Yarmouth Academy, the next stage for Phoebe and Keeley seemed to be the local colleges, until the next great opportunity came along thanks in combination to existing staff and The Inspiration Trust's wider educational community.
The day after Results Day, both students received unexpected phone calls from their Head of Year, with the opportunity to interview for fee paying scholarships at a very prestigious North Norfolk Boarding School, Gresham's Senior School. Within a week, the two Great Yarmouth students had completed successful interviews, been accepted, and were on their way to start two years of A-Levels.
Phoebe felt that Great Yarmouth had prepared her for this opportunity - being Head Girl, the academic support, and the overall drive to achieve without consideration of barriers or background. Thrown into this privileged environment at Gresham's Senior School, and living away from home, was a steep learning curve, but both students settled in and took advantage of the small classes, and extra-curricular activities.
Keeley mentions how the academic drive instilled in them both by Great Yarmouth, and the fact they had been given the scholarship, provided added impetus for them to make the most of what the opportunity, and Gresham's Senior School seems to have been the perfect preparation for the university careers that will follow.
Despite visiting Cambridge in Year 10, Keeley admitted feeling daunted by the place, and not feeling like she would ever apply to such a place. Her remaining time at Great Yarmouth and her Sixth Form at Gresham's clearly changed that view, and she applied to read English Literature.
Both students realise the great opportunity offered by one of the best universities in the world, and know the doors that will open, and the connections that a degree from this educational establishment will provide.
Looking back, both Keeley and Phoebe offer similar advice to their younger peers in Great Yarmouth. Keeley spoke with passion about her own chances, "seize every opportunity you can, appreciate the education you are getting right now, even if you might not enjoy it, or like the teacher, appreciate it right now." Phoebe urges peers to "choose subjects and hobbies you enjoy. You've got to study things that you have a passion for - think about what will drive you to revise. You don't want to study subjects you don't enjoy."
The changes they went through, and the positive impact of The Inspiration Trust - who supported their teachers to continue supporting them - and the opportunities and expectation of those around them have clearly had an impact. Providing opportunities is one thing, helping nurture and develop a student's own confidence, potential, and academic ability, to take advantage of the possible, is entirely another. Keeley and Phoebe's story is truly an Inspiration.