Inspiration Trust host inclusion conference
Back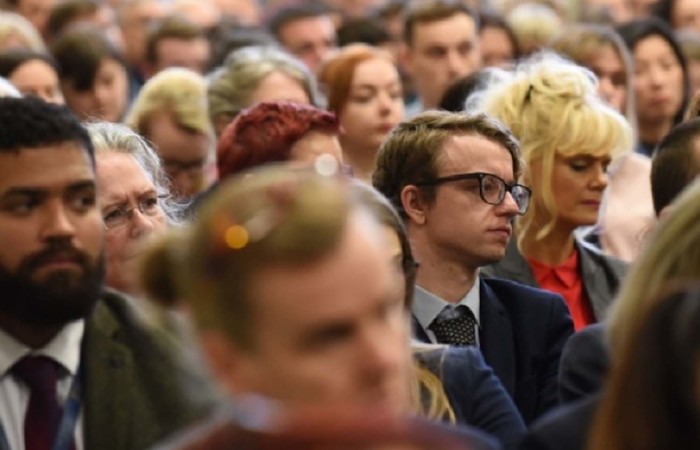 Published on 22/10/19
Inspiration Trust hold conference to educate staff on the importance of education and inclusion.
On the 18th October the Inspiration Trust held their first conference on education and inclusion at The Thetford Academy. The conference, which was a huge success, brought together nationally renowned speakers with experts from within the trust, all focused on the important topic of inclusion within a school environment.
The keynote was delivered by Inspiration Trust trustee, Professor Colin Diamond, and sessions were led by speakers, including: Jo Hutchinson, Cath Murray, Loic Menzies, Alix Robertson and Oliver Knight.
Claire Heald, Director of Standards welcomed guests to the conference.
Dame Rachel de Souza, Chief Executive of the Trust delivered an inspiring welcome address on future priorities for the Trust and set out why inclusion is the trust's top priority.
Dame Rachel continued to describe the Trust; 'we are not and never want to be an inward looking Trust. We want to learn from others and share our best work. We are committed to learning more and being better when it comes to inclusion.'
The CEO's passion for improvements within schools and the Trust itself showed throughout her speech as she revealed; 'we formed this Trust to solve educational problems, especially for the most disadvantaged, so we need to look at where we are and strive to be better'.
Trustee, Professor Colin Diamond CBE delivered the keynote speech and continued on this theme as he stated: 'You want to understand inclusion? Go to visit some nursery schools, they have some of the best and most inclusive practitioners'.
Colin suggested ways to improve standards and make a difference within the school environment: 'We need to read more, invest in coaching and training and build effective habits. We should seek to understand before we are understood.'
He passionately set out his vision, stating that the Trust must always 'prioritise well being for our pupils, our teachers and our leaders to develop inclusive and happy environments in our schools'.
A number of different workshops and sessions ran throughout the rest of the day.
Jo Hutchinson, from the EPI, delivered a talk on how schools can support their most vulnerable learners.
Cath Murray, from the Centre for Social Justice, explored the different ways that schools and other organisations are working to reduce exclusions. She was joined by Anne Heavey, National Director at Whole School SEND, who talked about practical approaches to improving SEND support for pupils in schools.
AP lead teacher at Thetford Academy Mick Piggott spoke about his work leading an internal pilot AP unit, helping children at risk of exclusion in mainstream schools whilst ensuring they still have access to high quality curriculum and teaching.
Summer Turner led a session on inclusion through curriculum and pedagogy.

Oliver Knight presented an insightful session on school leadership, as part of which he explored the idea of curriculum as a tool for inclusion and reframed 'the attainment gap as an entitlement gap'.
The conference marked the launch of the trust's inclusion strategy, which will be a key priority for the trust for the year ahead.
As well as the presentations on the day, awards were also given to those for their contributions within the Trust:
Charles Darwin Primary
Teaching award: Alana Chipperfield
Support staff award: Jane Allen
Cobholm Primary Academy
Teaching award: Toni Gibbs
Support staff award: Emma Stevenson
Cromer Academy
Teaching award: Jonathan Fisher
Support staff award: Tom Perry
East Point Academy
Teaching award: Matt Wallace
Support staff award: Karen Moule
Great Yarmouth Academy
Support staff award: Dan Weber
Teaching award: Sophie Fabian
Great Yarmouth Primary Academy
Teaching award: Gemma Huggins
Support staff award: Tina Yaxley
Hethersett Academy
Teaching award: Elizabeth Bowling
Support staff award: Susan McCormick
The Hewett Academy
Teaching award: Rebecca Lunn
Support staff award: Rebekah Kerner
Jane Austen College
Teaching award: Guy Cooper
Support staff award: Jess Murray
Stradbroke Primary Academy
Teaching award: Matthew Mutimer
Support staff award: Mandy Coates
​
Norwich Primary Academy
Teaching award: Lindsay Pierssene
​Support staff award: Jayne Gibbons
Sir Isaac Newton Sixth Form
Teaching award: Wayne burge
Support staff award: James Hartley
Thetford Academy
Teaching award: Safina Karim
Support staff award: Luke Byford
Central Education team
Support staff award: Bethan Hislop
''Today we must celebrate but we must also learn from the past and make sure we always seek to improve even when it is tough.'' Dame Rachel De Souza.