Inspiration Trust opening the door to music for all
Back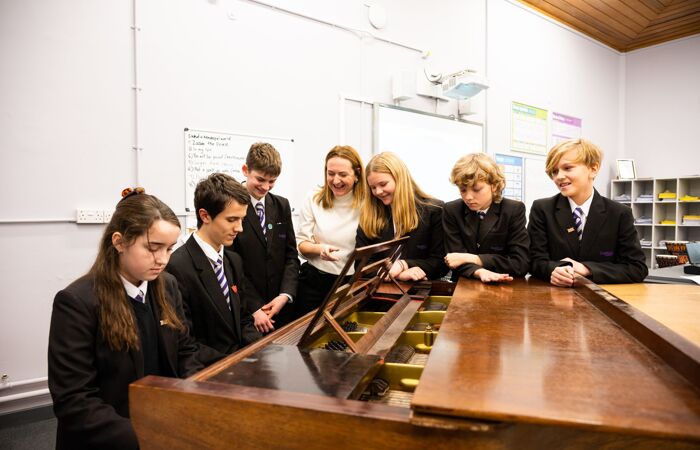 Published on 07/12/22
Inspiration Trust values music in the life of schools and pupils and believes all pupils deserve to learn, play and perform music irrespective of background. Inspiration Trust evidences this commitment by heavily subsidising music tuition for pupils, hiring its own in-house team of Visiting Music Teachers (peripatetics) and providing free instruments to pupils who may not have had the opportunity to take up the extra-curricular activity otherwise.
Working in partnership with Trinity College London for musical opportunities and music exams, Inspiration Trust aims to have as many pupils as possible partaking in musical activities throughout their school careers and has the ambition of having an ensemble or orchestra in every school in 5 years!
A pioneer in music education, Inspiration Trust was one of the first multi-academy trusts in the country to hire a Director of Music in a full-time capacity. This role filled by John Stephens has led to the creation of a trust-wide approach to the music curriculum and the delivery of music education in Inspiration Trust schools.
Director of Music, John Stephens said

"Music is a vitally important subject and I am honoured to be part of a trust that is leading the way in making sure that the importance of music is not only recognised, but that children from all walks of life get the opportunity to play instruments and enjoy music in a variety of forms. From productions and performances through to music clubs and choirs, it's wonderful to see so many people come together to celebrate their love of music".
Music is an extremely important subject helping to develop cognitive and social skills. Learning an instrument helps to grow language and motor skills, and playing with others helps to establish emotional intelligence and collaboration skills, as well as being enjoyable and entertaining for performers and listeners alike.
Students are encouraged to participate in the numerous trust-wide music competitions that take place throughout the year - Battle of the Bands and Piano competitions, as well as the Annual Christmas Carol Service - this year the service was held at St. Andrews hall in Norwich, which culminated in over 300 pupils and 80 orchestral players, from 15 schools, performing Handel's Hallelujah Chorus together.
Inspiration Trust is proud to be able to offer a wealth of extra-curricular music activities too, all organised to complement the music curriculum. The schools within the Trust provide opportunities to join choirs, orchestras, bands and clubs, take part in annual productions and participate in trips and visits to theatres such as Norwich Theatre Royal. In the last year alone, the number of pupils taking part in extracurricular music activities has doubled!