Charles Darwin Primary School Claims Top Spot at Trust-Wide Dodgeball Tournament
Back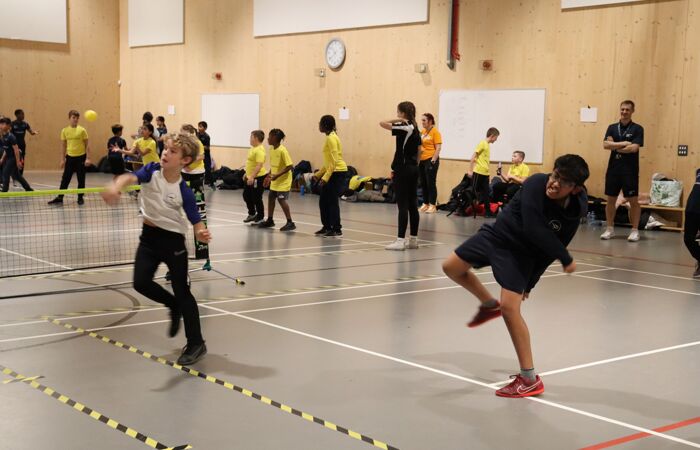 Published on 25/11/22
On Friday 25th November, around 100 primary school students took part in our inaugural dodgeball tournament at the fantastic Eileen Ash Sports Hall, situated at The Hewett Academy in Norwich.
The event involved pupils from Years 5 and 6 from all of our primary schools: Charles Darwin Primary, Cobholm Primary Academy, Great Yarmouth Primary Academy, Norwich Primary Academy and Stradbroke Primary Academy, and was part of the Trust-wide Sports Competition which culminates in an annual award at the end of the year to the school with the most points.
Stradbroke Primary Academy took Third Place, Cobholm Primary Academy took Second Place and Charles Darwin Primary School was awarded First Place, having played an incredible set of matches throughout the morning. The event consisted of a round-robin tournament with teams of 10 pupils consisting of 5 girls and 5 boys from each Year Group, with 4 matches being played at once!
We would like to give a huge thank you to the sports leaders at Hewett Academy who facilitated the smooth running of the day, recording scores and refereeing the matches.
Teachers also had the opportunity to nominate a student from an opposing school during the matches for incredible sportsmanship and skill - the player with the most votes would be announced player of the match in their category. One boy and one girl was picked from each year group.
Year 5 Girls: Darcy B (Cobholm Primary)
Year 5 Boys: Joey K (Charles Darwin Primary)
Year 6 Girls: Caelah W (Stradbroke Primary)
Year 6 Boys: Alfie B (Charles Darwin Primary)
Paul Wayman, Inspiration Trust Sports Coordinator said:

"Dodgeball can sometimes be perceived as a fun but somewhat aggressive sport! At this event, we wanted to promote the sporting value of Integrity, encouraging the children involved to play fairly and to treat their peers in a respectful manner. The students were brilliant. They played enthusiastically and demonstrated admirable sportsmanship. They should all be very proud of their efforts today.

A special mention must also go out to the fantastic sports leaders from Hewett Academy, who worked hard to keep all the matches running smoothly and fairly."
We look forward to our next primary event on the 24th March at Goals Norwich for some Football!