Choral Poetry Recital Inaugurates Primary Olympiad for Inspiration Trust
Back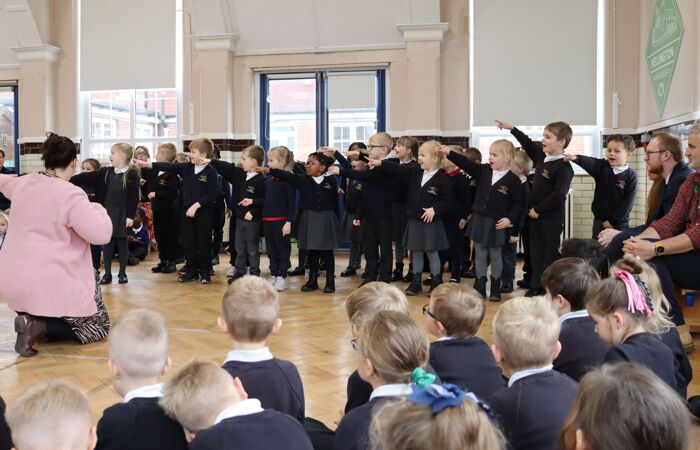 Published on 17/11/22
On Thursday 17th November, Inspiration Trust kicked-off its Primary Olympiad initiative, with a Choral Poetry Recital performed by Year 1 pupils. Children from all five Inspiration Trust-sponsored primary schools attended the event hosted at Great Yarmouth Primary Academy for a morning of poems and joy.
All the primary school pupils were excited to get started in this first event of its kind, with everyone having an opportunity to recite their poems to each other. Year 1 classes from each school performed their poems, whilst the other schools acted as their audience, practising key listening skills and respectfully watching the other children that took their turn to perform.
Alison Hughes, Primary Director at Inspiration Trust said:

"The choral poetry event enabled all our 5 and 6-year-olds to participate and perform together. We see developing clear speaking skills and encouraging active participation from an early age as it is a key driver for future confidence. I was thrilled at the response from all the schools at the engagement and joy in the room."
Pupils performed their poems to an audience of other Inspiration Trust children and staff in the hall at Great Yarmouth Primary Academy, with the aim of promoting oracy, being able to express themselves and performing in large groups to build confidence in the children. This helps lay foundations for future performances, speaking to audiences and building their confidence. The children felt comfortable and were able to grow their skills, in a safe environment supported by their peers.
Pupils were full of encouragement for each other and acted sensitively when others were performing. The morning was enjoyed by all and this initiative will continue into the academic year with the Primary Olympiad providing opportunities for children of all primary year groups to take part.