Inspiration Trust pledge to kick-start the next generation of computer science whizzes with mentor programmes, hackathons, and more!
Back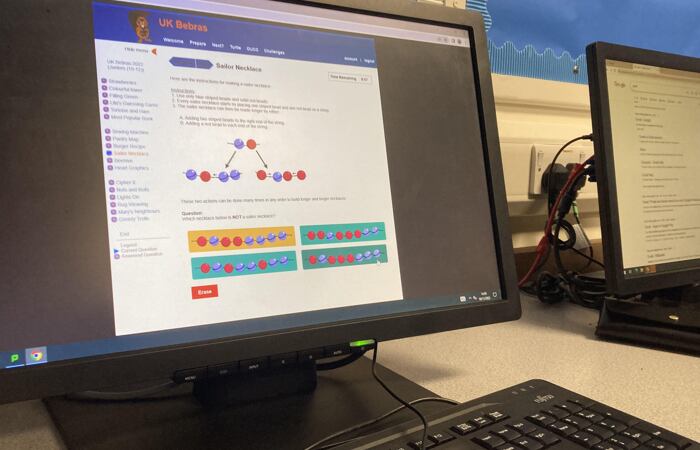 Published on 14/11/22
From augmented realities to artificial intelligence, the world is more digital and more connected than it has ever been before, which is why Inspiration Trust is placing emphasis on computer science across its curriculum. The Trust aims to offer its students opportunities they may not have otherwise received, helping them open doors they may never have had the chance to explore.
Inspiration Trust believes all students should have equal access to a powerful Computer Science education and should feel valued within the subject. The Trust is developing a culture that celebrates and empowers students to be creative computational thinkers. Encouraging pupils to be those who are identifying the problems to be solved, not just solving them. TechNation stated that 22% of the tech workforce in the UK is female. Inspiration Trust have pledged to have its cohorts at A-Level to be at least 40% female by 2025.
From working with FireTech to give secondary school students the chance to learn coding, web development and artificial intelligence, to setting up a 'Women in STEM' Mentoring scheme which sees the Trust working with an array of local businesses to support students looking to explore further education and job opportunities in science, engineering, technology and maths, Inspiration Trust sees the importance of computer skills and is ensuring its pupils are equipped for the ever-changing digital world that lays before them.
As part of the vision, Inspiration Trust is launching a mentoring programme to give its GCSE and A-Level students the opportunity to speak with, and be mentored by women working in STEM roles across the region. They will be connecting with women currently studying for a Computer Science degree at UEA, Aberystwyth and Lincoln, or working at Conisbee (civil/structural engineers), Atkins Global (engineering), and Essex County Council. The women will be working with Inspiration Trust pupils to help explore and encourage routes into STEM industries and discussing their experiences of being in the workplace. They will work with students monthly to set and achieve goals throughout the year as they think about their post-18 choices.
Alongside this, students from the Ofsted 'Outstanding' STEM-specialist college, Sir Isaac Newton Sixth Form will be connecting with Inspiration Trust primary school children to inspire pupils to explore Computing at GCSE and A-Level. One element of this will see Year 12 students working with small groups of pupils at Charles Darwin Academy to help them explore what it means to think computationally and how to solve problems. They will put this into action by doing some physical programming where students will code LED's to display colour sequences.
Students in KS3 to KS5 across the family of schools will also be participating in the Bebras Computing Challenge. This is a global competition backed by Oxford University and is designed to get students all over the world excited about computing. The schools taking part will be Hewett Academy, Jane Austen College, Sir Issac Newton Sixth Form, Cromer Academy and Wayland Academy. Each participant will have 40 minutes to answer as many questions as they can, on topics of computational and logical thinking. Year 10 students at Jane Austen College and Hewett Academy will also benefit from a visit to the Computing History Museum in Cambridge in December.