Inspiration Trust celebrates incredible A-Level success
Back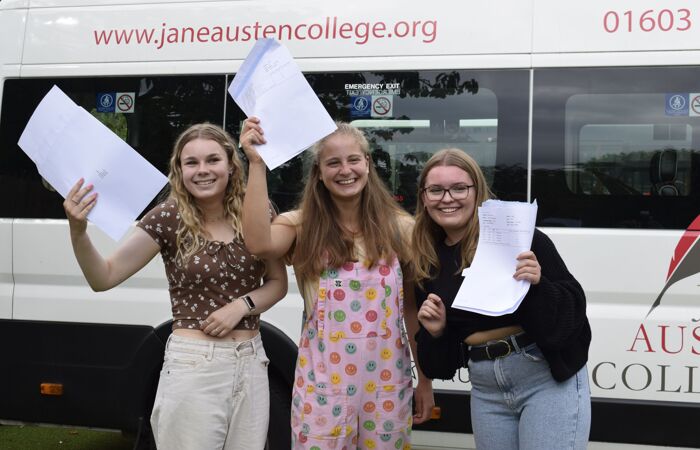 Published on 18/08/22
Despite two years of unprecedented disruption due to the pandemic, Inspiration Trust are celebrating incredible A-Level Results today with 43% of grades A*-A and 89% of grades A*-C overall.
Monumental results have been seen at the Ofsted 'Outstanding' Sir Isaac Newton with 50% of A-Level grades at A*-A and 87% of grades A*C. As the UK's first specialist STEM college and with academia at the core, Sir Isaac Newton Sixth Form is delighted to see six of its pupils going off to Oxbridge, paving the way for the next generation of medics, lawyers and dentists.
The pioneering Maths and Science sixth form college has seen exceptional results across a range of highly academic subjects with incredibly high numbers of A*-A grades - Further Maths 65%, Maths 52%, Chemistry 49%, Computer Science 47%, Biology 45%, Physics 44%. Such results are extremely exciting for the expansion of Sir Isaac Newton Sixth Form with Sir Isaac Newton East Sixth Form opening in Great Yarmouth in September
Chris Jennings, Principal at Sir Isaac Newton Sixth Form, said
"I am delighted for all our students at Sir Isaac Newton Sixth Form who have achieved an impressive set of results this year. Both staff and students have worked incredibly hard to ensure no opportunities have been missed and today's results are a testament of that hard work and dedication, I am extremely proud. I would like to congratulate the students on their achievements and wish them every success as they move on to the next steps in their academic careers, having achieved some fantastic placements at university."
Jane Austen College is also celebrating incredible results today with 41% of grades A*-A and 95% A*-C, again with a number of pupils moving on to Oxbridge to further their studies.
100% A*-C grades were achieved in Sociology, Politics, English Language, French, German and Art and Design.
Summer Turner, Principal at Jane Austen College, said:
"Our students have gone above and beyond over the last two years to achieve an extraordinary set of results. This is a culmination of a huge amount of work in some of the most challenging of circumstances, and I want to congratulate all students and staff on their unwavering commitment. Students have shown great determination in their learning and have truly risen to the challenge… I am very proud of what our year 13 students have achieved, and wish them the very best in their next steps."

Impressive results were also seen at Thomas Paine Sixth Form who has seen a 30% increase in the percentage of A*-C vs. 2019, with 80% of grades A*-C! 100% A*-C were achieved in Maths, English, Art, Portuguese, Spanish, Applied Science, Performing Arts and Sport.

Dan Carter, Principal of the Thomas Paine Sixth Form and Thetford Academy, said:
"I'm very proud of our Year 13 students as they receive their exam results today. I'm pleased to say that these results have enabled the vast majority of our students to achieve places at their chosen university. I really admire our students' hard work, persistence and resilience, especially considering the challenging circumstances they have faced in the last two and a half years. Year 13 have achieved the sixth form's best ever exam results, with a 30% improvement in the number of grades at C or above from the last set of exams in 2019. These grades have been hard earned and are fully deserved. The class of 2022 have proved once again what young people from Thetford are capable of and I offer them my sincere best wishes. They will be very fondly remembered at Thetford Academy and the Thomas Paine Sixth Form."
Bethany Smith, Year 13 student at Thomas Paine Sixth Form, will be attending the University of Reading in September:
"Going to university is a dream come true for me, I will be the first in my family to go to university. It's a new chapter and very exciting. Sixth form really boosted my confidence and brought me out of my shell. All of the teachers have been so supportive and I couldn't have asked for any better mentors."
King Edward VII Academy is also celebrating today after another year of Level 3 success including 100% pass rate in the new Cambridge Technical Sport and Physical Activity course. This is the fourth successive year that 100% of students achieved a place at university, an apprenticeship or full-time employment.
Each year an exceptional student from King Edward VII Academy selected to receive the prestigious Gold Medal Award from the Queen, and KES Academy is delighted to announce this year's winner - Thomas Lawlor!
Thomas has been an outstanding student throughout his time at KES Academy and is truly deserving of the award from her Majesty. An extremely able student, Thomas' academic ability and excellent work ethic is unmatched and has led to him achieving 1 A* and 3 A grades.

Sarah Hartshorn, Principal at King Edward VII Academy said,
"Our Academy continues on our positive journey and this trajectory is reflected in our exam results this year. I am very proud of all our students who have experienced an extremely difficult period of education over the last three years. They have been focused and determined to succeed despite the many challenges that have been thrown at them and have not faltered in their resolve. Over the past three years 100% of our students have achieved a place either at university, an apprenticeship or full-time employment, an achievement we are confident will be repeated this year. It has been a privilege to work with these students and we wish them well for the future."