Inspiration Trust kicks off their first Primary School Trust sports event!
Back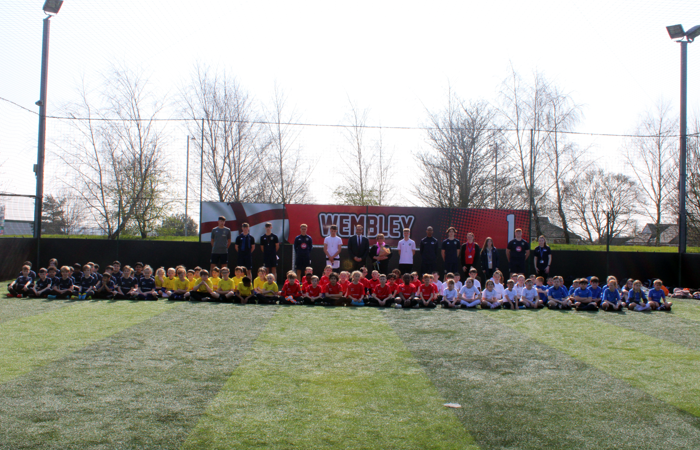 Published on 29/03/22
On Friday 25th March, Inspiration Trust hosted their first Whole Trust Primary School 6-a-side football tournament in the beautiful sunshine at GOALS, Norwich. This was the first instalment of our Whole Trust Sports Competition Programme for the academic year involving all five of our Primary Academies: Charles Darwin Primary Academy, Cobholm Primary Academy, Great Yarmouth Primary Academy, Norwich Primary Academy and Stradbroke Primary Academy.
The tournament involved over 100 players from Year 4 - 6 with teams playing on the six pitches in a round-robin tournament to ensure plenty of competition and exciting matches. The games were played in great spirit and all competitors were a credit to their school in terms of performance, effort and sportsmanship.
Inspiration Trust sends their extended thanks and appreciation to Larking Gowen, who kindly sponsored the competition, allowing the children to compete in brand new school sports tops. The children were full of enthusiasm and pride, and will continue to represent their schools in their shirts throughout the programme of competitions.
Julie, Managing Director of Larking Gowen said:
"Larking Gowen is proud to sponsor the Inspiration Trust Academy kit for all the children at Cobholm, Charles Darwin, Great Yarmouth Primary, Norwich Primary and Stradbroke. The kits looks great and it was an honour to be able to be part of a fantastic day where the children could all get together and enjoy some sport and healthy competition. It has been a tough couple of years and it was great to see everyone back together enjoying themselves."
Steve Adams, Whole Trust Sports Coordinator said:
"It was fantastic seeing lots of happy and energetic children having an opportunity to represent their school in a competitive tournament. For many this was their first experience of an Inter-school match and we are looking forward to our next athletics tournament in July to be held at Norwich Primary Academy. My thanks go to the Year 12 Sports Leaders from King Edward VII Academy, Kings Lynn who helped with the results collation and refereeing they were excellent!"
| POSITION | SCHOOL | POINTS |
| --- | --- | --- |
| 1 | Norwich Primary Academy | 13 |
| 2 | Charles Darwin Primary Academy | 12 |
| 3 | Great Yarmouth Primary Academy | 9 |
| 4 | Cobholm Primary Academy | 5 |
| 5 | Stradbroke Primary Academy | 5 |
Next up... athletics!