The BBC visits Inspiration Trust schools as part of their centenary celebrations!
Back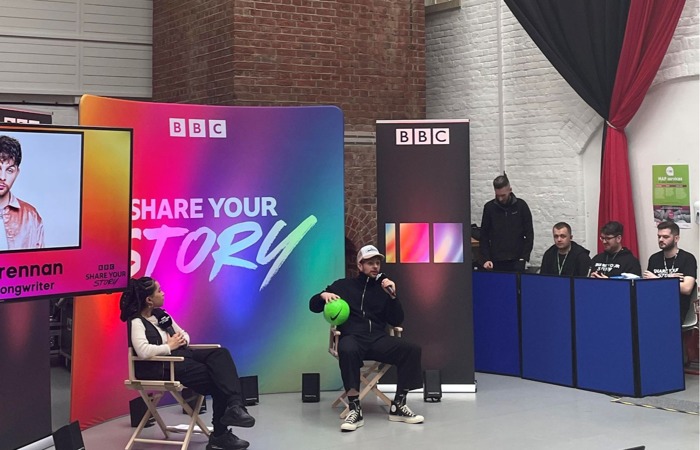 Published on 16/03/22
Students across Jane Austen College, Great Yarmouth Charter Academy and Cromer Academy have been lucky enough to welcome visits from the BBC as part of their centenary celebrations. The BBC 100 Share Your Story project is an initiative that aims to build pupil's resilience and confidence in storytelling, whilst introducing students to exciting careers within the BBC that they may previously have never considered, or even heard of.
The BBC Share Your Story tour visited both Great Yarmouth Charter Academy and Cromer Academy with host and BBC Radio 1 Extra presenter Swarzy Mcally and special guests, Rosanna Skwarka, Rights and Business Affairs Executive and Amy Nomvula, BBC Norfolk Senior Journalist. The guests took to the stage to share their stories, talk about their lives and how their journey and setbacks led them to their current roles within the BBC.
Jane Austen College was also visited as part of the tour and also welcomed host Swarzy Mcally, and a very exciting special guest, Brit award nominee, Tom Grennan, who also took to the stage to chat to students all about his career path - and challenge them to a keepy-uppy competition (that he didn't win!).
Rosanna, Amy and Tom spoke to our students all about their lives and growing up, and how they were unsure on the routes they wanted to take, and about how they ended up in careers they love and thrive in, despite many setbacks along the way. Students took part in various Q&A sessions where they got to ask their guests hard hitting questions from 'What's the biggest setback you've ever had and how did you overcome it?', 'What's the best piece of advice you can give to a student who doesn't know what they want to do after high school?' to of course the most important question 'Do you prefer orange or apple juice?!'.
Summer Turner, Head of Jane Austen College, said: "we were delighted to welcome Swarzy Macaly, Tom Grennan and the BBC team to Jane Austen College as part of the BBC Centenary tour. We're a school which prides itself on our love of stories, and shares the views echoed by the BBC guests that stories have the power to change lives. It was particularly important to hear from Tom who is so open about his struggles with his mental health and was able to share how talking to others and writing have helped him to navigate difficult times. Jane Austen College is focused on developing the knowledge and character needed to lead great lives, and today was a wonderful addition to our character curriculum."
It was a great opportunity for our schools that brought fun and excitement back after so long without external visitors due to the pandemic. Students thoroughly enjoyed their sessions with the BBC and were all encouraged to tell their own stories through BBC'S Young Reporter Scheme, to celebrate 100 years of the BBC storytelling.
Huge thank you to BBC Bitesize, Swarzy Mcally, Rosanna Skwarka, Amy Novula, Tom Grennan and of course the BBC team who made this tour possible for our students to enjoy.
Find out more about the BBC's Young Reporter Competition, here.