Badminton tournament sees Inspiration Trust schools swing into the third leg of new sports programme
Back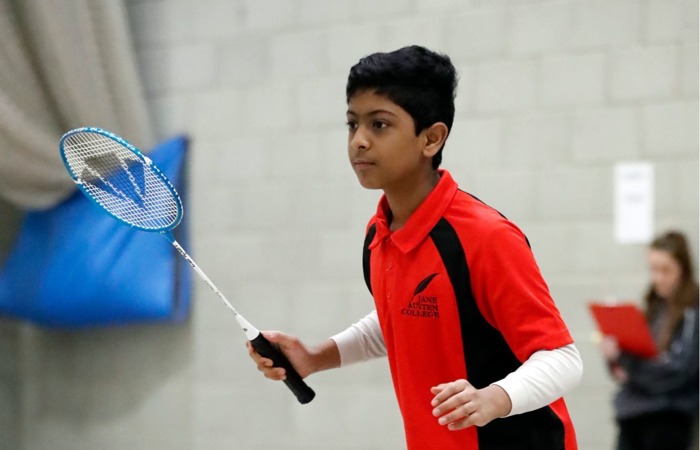 Published on 24/02/22
Friday 11th February saw us host our Badminton Tournament at UEA Sportspark which again provided a fabulous venue. This was the third instalment of our Whole Trust Sports Competition programme for the year, this time involving eight of our secondary schools.
The tournament involved 130 players from Years 7 - 10 and teams played in doubles on the 12 courts in a round-robin tournament, allowing plenty of competition and exciting matches. This round of the cross-trust competition met the principles of the initiative by encouraging teamwork and pride in students representing their schools. Badminton is a sport that welcomes all abilities, and therefore it was great to have so many students from across our family of schools enjoying competitive sport in a fantastic facility.
Whole Trust Sports Coordinator, Steve Adams said: The games were played in great spirit and all competitors were a credit to their school in terms of performance, effort and sportsmanship. My thanks go to the Year 9 Sports Leaders from Hethersett Academy who helped with the results collation on every court throughout the morning, they were excellent!
Huge congratulations to our individual award winners, as nominated and awarded by school PE staff:
Year 7 = Monish Jedula (Jane Austen College)
Year 8 = Ellis Greenleys (Great Yarmouth Charter Academy)
Year 9 = Sanna Gura (King Edward VII Academy)
Year 10 = Lucas Braybrooke (East Point Academy)
Competitions:
Year 7 (Combination of Boys & Girls results)
Year 8 (Combination of Boys & Girls results)
Year 9 (Combination of Boys & Girls results)
Year 10 (Combination of Boys & Girls results)
| Year group | shield winners | Runner up | 3rd | 4th |
| --- | --- | --- | --- | --- |
| year 7 | King Edward VII Academy | East Point Academy | Hethersett Academy | Great Yarmouth Charter Academy |
| year 8 | Great Yarmouth Charter Academy | East Point Academy | King Edward VII Academy | Cromer & Hethersett Academy |
| YEAR 9 | Hethersett Academy | King Edward VII Academy | Jane Austen College | East Point Academy |
| Year 10 | East Point Academy & Hethersett Academy | | King Edward VII Academy | Wayland Academy |
Congratulations to our joint Badminton Tournament 2021 winners:
| Final position and points | | |
| --- | --- | --- |
| 1 | King Edward VII Academy | 31 |
| 1 | Hethersett Academy | 31 |
| 1 | East Point Academy | 31 |
Our whole-trust sports competitions continue with:
Netball Tournament - 22nd March at UEA Sportspark and Hethersett Academy
Rugby 7s Tournament - 24th March at Wymondham RFC
Primary Schools Football Tournament - 25th March at GOALS, Norwich