Inspiration Trust Host Their First Early Years Conference
Back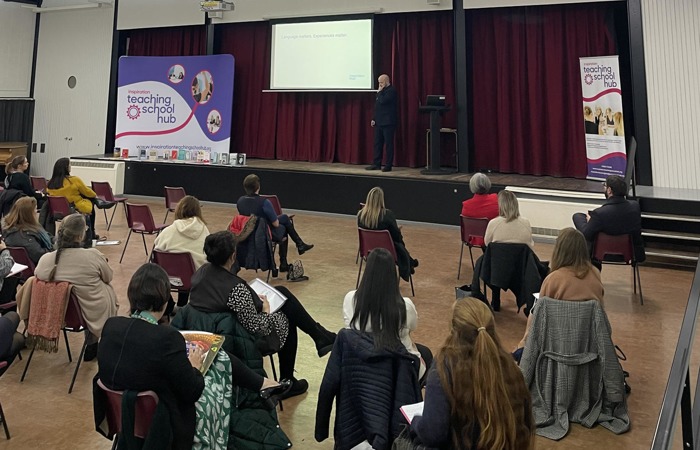 Published on 14/12/21
Inspiration Trust hosted their first Early Years Conference recently, hosted at the Inspiration Teaching School Hub. The event allowed early year teachers from across Norfolk to hear from a range of speakers; Jan Dubiel, a specialist in Early Childhood Education and Julian Grenier, Head Teacher of Sheringham Nursery School and Children's Centre in East London.
The early years curriculum plays such an important role in a child's development, with children learning and developing more from birth to five years old than at any other time in their lives, so it was great to be able to share the Inspiration Trust's Autumn Early Years curriculum with attendees.
Danielle Sargeant, Head of School at Cobholm Primary, who spoke at the conference said:
"It was great to see so many people both from within and outside of the trust and be able to share the new Early Years Curriculum. It was an honour to be an advocate for all the hard work from our excellent Early Years teachers that have worked so hard to produce such an impressive curriculum over the last year."
Alison Hughes, Inspiration Trust's Primary Director, said:
"It was fantastic that there was representation from right across Norfolk. The conference speakers skilfully addressed current issues facing Early Years practitioners, particularly around the balance between adult directed and child-led learning as well as the importance of knowledge and vocabulary in early years teaching and learning. Attendees reported how thought provoking and refreshing it was to have a conference focused solely on this critically important phase of education.


The development of the Inspiration Trust Early Years Curriculum has been undertaken by practitioners for practitioners. Attendees left the conference with a framework for progressing their own ideas and school developments."
After the success of the first event, Inspiration Trust hopes to run further networking opportunities through their Teaching School Hub, including their Early Years Conference annually. We welcome enquiries from anyone who would like to talk to us about our curriculum.
Please email us at inspirationteachinghub@inspirationtrust.org.