Inspiration Trust continue their sports programme with brand new swimming gala
Back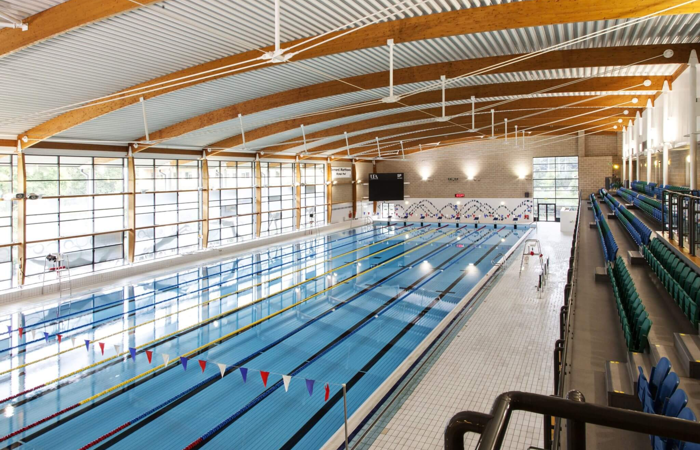 Published on 30/11/21
Inspiration Trust continued their programme of Inter-Trust sporting events on Tuesday 23rd November with a whole Trust swimming gala, involving 280 swimmers across our nine Secondary Schools. The swimmers involved both strong club swimmers, but also first-time swimmers competing in their first ever gala. The gala was split into two sections with the Junior competition (Year 7 & 8) performing first then a switch-over to the Senior competition (Year 9 & 10).
One of the main principles of the Trust sporting competitions is to create events that encourage teamwork and pride in representing the school, and this gala did exactly that. The enthusiasm and atmosphere at the gala was incredible, with all swimmers being cheered on in every race by their peers. Amongst the cohort there were some very impressive swimmers representing their schools and the gala acted as a great platform for them to showcase their swimming skills to a very large audience. The gala was concluded with individual performance awards which were nominated by Alex Pinniger, Head Coach for City of Norwich Swim Club, and were presented to;
Individual Awards:
Year 7 Girls = Ellie Buckley (Butterfly) - Thetford Academy
Year 7 Boys = Harrison Bunning (Butterfly) - Wayland Academy
Year 8 Girls = Abbie Riches (Butterfly) - Jane Austen College
Year 8 Boys = Angus Brighouse (Freestyle) - Hethersett Academy
Year 9 Girls = Isla Hamilton (Breaststroke) - Hethersett Academy
Year 9 Boys = Morgan Twose (Butterfly) - Great Yarmouth Charter
Year 10 Girls = Esme Kidman (Freestyle) - King Edward VII Academy
Year 10 Boys = Ben Buckley (Breaststroke) - Thetford academy
We would like to thank Kerri Duncan and her staff at UEA Sportspark for hosting our inaugural gala. UEA Sportspark is a superb venue and is one of the few Olympic size pools in the country, but also has a fanatics spectator gallery which allowed for all students to space out safely with one group poolside and a group spectating from the balcony. For many of the students it was their first opportunity to swim at such a fantastic venue. We are thrilled that we are able to introduce students to such great venues throughout our competitions.
City of Norwich Swim Club assisted with the officiating, with six officials volunteering their time and expertise, coordinated and organised by Alex Pinniger. We were delighted to receive their positive feedback and all commented upon what a great atmosphere was created by the participants and staff and that it was one of their best galas they have been involved in! A few of our non-club swimmers were even asked if they would like to attend some club training and trials, which was of course extremely encouraging. This event is an excellent platform for some of the talented swimmers to access and have an opportunity to progress onto the next stage of the performance pathway.
Another huge thank you also goes to the eight "Sports Leaders" from Hethersett Academy's Year 10 who were involved with the timekeeping for the Gala. They did a tremendous job and were a credit to their school and PE Department.
Steve Adams, our Whole Trust Sports Coordinator said: "I am pleased to say it was another very successful event. It allowed the students to compete with pride, skill, determination and team-work in a competitive sporting arena against eight other schools, which is another step-forward after so long without these sporting opportunities. We look forward to our next Trust sporting tournament which will be Badminton on February 11th and kindly be hosted again by UEA Sportspark."
| Year group | shield winners | runner up | 3rd | 4th |
| --- | --- | --- | --- | --- |
| Year 7 & girls | Hethersett Academy | Thetford Academy | Great Yarmouth Charter Academy | Cromer Academy |
| year 7 & 8 boys | Hethersett Academy | King Edward VII Academy | Wayland Academy | Hewett Academy |
| year 9 & 10 girls | Hethersett Academy | King Edwards VII Academy | Cromer Academy | Cromer Academy |
| year 9 & 10 girls | Hethersett Academy | Eastpoint Academy | Great Yarmouth Charter Academy | Cromer Academy |