Inspiration Trust Annual Conference - 'Community & Culture is at the heart of Inspiration Trust.'
Back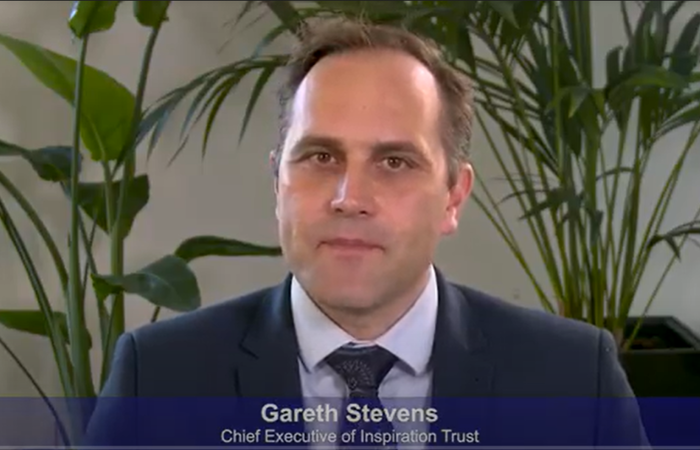 Published on 22/10/21
Inspiration Trust held its annual conference on Friday 22nd October, where our family of schools came together across four sites, as a community to learn, collaborate and share. In his speech, CEO, Gareth Stevens, reflected on the resilience and courage of individuals across our family of schools this year and the milestones that have been achieved.
The annual conference began with a speech from CEO, Gareth Stevens, that focused on the five key principles of the Inspiration Trust, as well as celebrating the phenomenal work from staff and students throughout a difficult period of government lockdowns. A special mention was also given to King Edward VI Academy, Inspiration Trust's newest addition to the trust. This was followed by a range of continued professional development sessions that took place with a variety of insightful educational speakers.
In his keynote speech, CEO, Gareth Stevens noted: "Community is an idea which is at the heart of the inspiration trust. We began very much as a group of schools setting out together, sharing great practices, working collaboratively together to improve education in Norfolk and Waveney, to tackle the gaps in attainment caused by disadvantage, taking on schools in communities that have been ill served by poor standards and to give opportunities to children that otherwise would not have experienced this."
Guest speakers included:
Dr Bianca Finger-Berry - Critical incident lead at Norfolk County Council
Michelle Unstead - SENDCO and Inclusion Leader at St Mary and St Peter's Catholic Primary School in Gorleston, Great Yarmouth and also Specialist Leader of Education (SLE) in Special Educational Needs (SEND)
Diane Danzebrink - 'Menopause Matters'
Specialist subject speakers included:
Modern Foreign Languages - Vincent Everett,
Geography - Rob Chambers
Drama and Performing Arts - Linda Bloomfield
Art - Susan M Coles & Terri Broughton
PE - Russell Earnshaw from The Magic Academy
This year, our annual conference took place over four locations; The Hewett Academy, Hethersett Academy, Norwich Primary Academy and our Inspiration Teaching School Hub. This was a great opportunity for staff across our family of schools to meet and share best practice.