The Importance of CPD – Introducing the Hewett 100
Back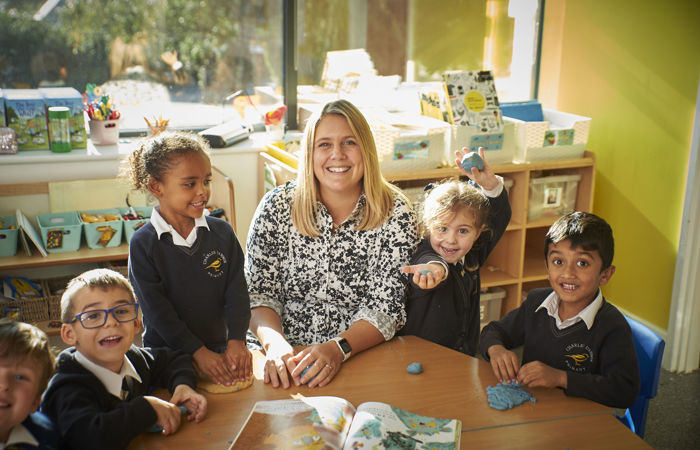 Published on 02/06/21
The Importance of CPD – Introducing the Hewett 100
High-quality Continuous Professional Development (CPD) should be at the centre of every school, offering all staff the opportunity to develop new skills and ensure their practice is at the very top level.
That's why at the start of this latest lockdown I brought in the Hewett 100 – a set of 100 books on teaching we offered out to all staff. This was entirely voluntary – no one was forced to read anything they didn't want to – but I hoped our staff would see this as an opportunity to develop aspects of their practice. We offered out the list of titles to all teachers and support staff and asked those who were interested to list their top three choices.
And the response from our staff was brilliant, just overwhelmingly positive about the books they've chosen and what they've gotten out of it. Every single staff member submitted requests for books, with most of our team was able to get their first choice.
We had sorted the books into three broad categories: subject specific, wider curriculum, and finally those focusing on inclusion.
The subject specific books are very much about deepening subject knowledge and an awareness of how children best learn in that subject. Several of them were taken from the reading list we give all trainee teachers on our SCITT programme, in case staff haven't come across them before, including books like 'Seven Basic Plots' and 'How I Wish I'd Taught Maths'.
Within the curriculum section were books which have been a cornerstone of the knowledge-rich curriculum of the Inspiration Trust. These are books which give teachers an insight into the reasoning behind our values and the direction we are travelling as a Trust. Books like: Cultural Literacy by E.D. Hirsch, and Why Don't Students Like School by Daniel Willingham.
Finally, the section on inclusion looked at trauma and questions around class, and analysed the difference these factors can make to a child's education. Books like The Working Class by Ian Gilbert and David Olusoga's Black and British.
The latter was really popular with our staff, so people have had to take it in turns. But across the list, more and more we're seeing people bringing their books back and getting another one.
What's really great to see is that it's not just teaching staff who are getting involved, but our support staff as well. There's no question that this is going to form a key part of our staff CPD library for the future, and I look forward to adding new titles in over time.
We have seen lots of staff choose books from the subject-specific list, and not just our teaching staff; non-teaching staff have selected books across a range of different subjects, depending on their own backgrounds and classroom interests. It's a really nice reflection of the importance we place on subject knowledge as a school, and across the Trust.
It's what really attracted me to the Inspiration Trust in the first place, and I'm delighted to have the chance to pass this on to my team. For me, reading around your subject, and deepening your subject knowledge on how students learn will be key to your future success, both as a teacher and for support staff.
I have always looked for CPD opportunities for staff, and one of the unexpected positives of the lockdowns has been the real growth in online development opportunities for staff.
As these tend to be scheduled for after the school day and are more flexible than in-person CPD sessions, they are much easier to access for our staff. Importantly, they are also more likely to be free, meaning that we can allocate money from the budget which would have gone on train tickets and training places to other school improvement projects, such as the Hewett 100.
Our location has historically meant it was harder for us to access training opportunities outside East Anglia, but the prevalence of online learning over the past year has been really helpful. It's also helped remove any stigma around online courses not being as creditable as in-person training and means that our staff can still have new opportunities for social interaction and networking in a way which would otherwise be almost impossible.
Of course, the main factor driving our CPD, both online and from books, is that we have such a great team at Hewett Academy. They've adapted so well to remote learning, combining live lessons with supporting families through loads of welfare calls and checking in, and they're still trying to improve their practice in their spare time.
At Hewett Academy we are all united in our belief that education can transform lives, and that our children deserve nothing less than us at our very best. That's why we put in so much work to develop our skills, and the Hewett 100 is just the very start of our plans to keep improving, and make sure our children receive the best education possible.