Inspiration Trust school unveils new teaching block and theatre
Back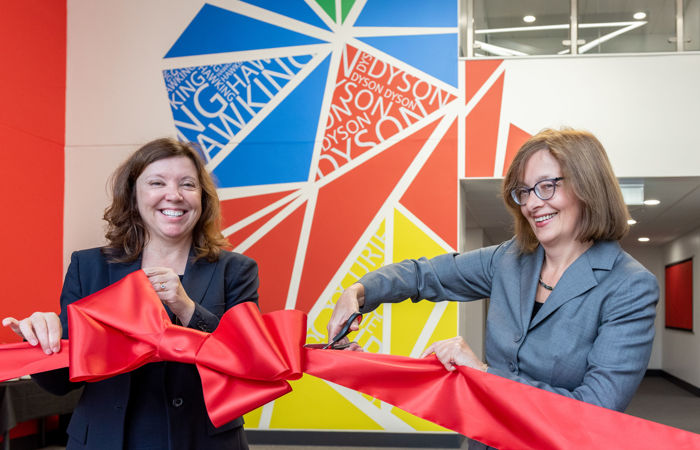 Published on 25/09/20
Hethersett Academy today welcomed guests for the formal opening of its new teaching block and the Helen Pye Theatre. Regional Commissioner Sue Baldwin from the Department for Education led the proceedings to mark the new building, which opened on time at the start of the new term despite the challenges of COVID.
The new building houses 17 new classrooms for English, mathematics and art, together with a state-of-the art new theatre, complete with bleacher seating. The additional classrooms have meant that the Norfolk school, will be better able to meet the increasing demand for places. This year it has welcomed 230 students in Year 7 – an increase in the school role of 360 children in the last three years.
To mark the formal opening, Regional Schools Commissioner for the East of England Sue Baldwin cut a ribbon and guests were then treated to vocal, dance and instrumental performances by Year 9 and 10 students in the brand-new theatre.
The £8m investment in the new building was funded by Norfolk County Council. For the last two years, the school has increased its student numbers in Year 7 and has still been oversubscribed.
Sue Baldwin, Regional Schools Commissioner said, "It is a pleasure to be formally opening the new Helen Pye building today at Hethersett Academy as the school goes from strength to strength. Schools are facing very challenging circumstances at the moment and to see such a fantastic facility first-hand knowing that robust protective measures are in place, shows us how school life continues to be vibrant, engaging and safe."
Dame Rachel De Souza, Chief Executive of Inspiration Trust said, "Despite many building projects around the country being brought to a standstill by Covid, our new building at Hethersett has opened on time. It is wonderful to see the new teaching block in action, and our budding thespians treading the boards in this incredible new performance space."
Jane Diver, Principal of Hethersett Academy said, "Our new building and state of the art teaching facilities provide a much improved learning environment for the children of Hethersett and we were all very excited to move in. English and Mathematics are both subjects in which children excel at Hethersett and we are all excited about what children can achieve with this improved teaching setting.
It is also a fitting tribute to name our theatre in the new building which houses eight Mathematics classrooms after Helen Pye, who dedicated over 30 years of her life to providing Hethersett children with the highest quality Maths education and a passionate amateur dramatist herself."