Inspiration Trust shines light on the importance of Reading for Pleasure
Back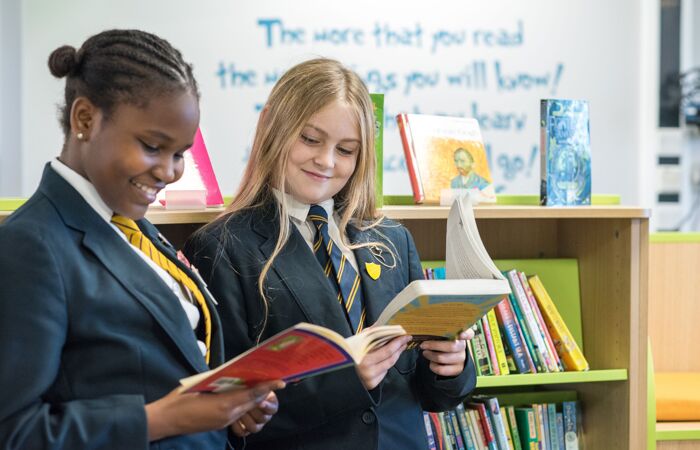 Published on 25/11/22
We all know that having the ability to read is important for gaining knowledge and helping children to make sense of the world around them, but did you know reading for pleasure also helps children develop empathy, imagination and the ability to understand their own and others' identities?
Inspiration Trust wants all of its students to be able to read confidently and with enjoyment. As a gateway to education, it arms children with knowledge and power and supports in ensuring young people grow up to be independent, confident adults.
Throughout Inspiration Trust schools students are exposed to high-quality texts both within the curriculum and beyond through form-time reading and aptly-named 'Reading for Pleasure' lessons to promote a culture of appreciation for reading materials, their aesthetic value and cultural significance. Every school has a '100 books every child should read before they leave school' initiative, while KS2 pupils all begin their day listening to their teacher read as they follow along with their own copy of the book.
As a result, libraries and reading nooks are at the heart of Inspiration Trust schools - which are not only well-stocked but have their own expert librarians who run regular competitions and make suggestions for individual students on books they may enjoy the most. Over the course of time, the Trust has seen changes in the type of books selected by students with the top 10 most popular currently being…
1. Heartstopper (series) / Alice Oseman
2. Ready Player One/ Ernst Cline
3. Miss Peregrine's Home for Peculiar Children / Ransom Riggs
4. Horrorstor / Grady Hendrix
5. Frozen Charlotte / Alex Bell
6. The Hate U Give / Angie Thomas
7. One of Us is Lying / Karen M Macmanus
8. The Dumas Club / Arturo Perez-Reverte
9. The Black Flamingo / Dean Atta
10. The Great War / Joe Sacco
Robert Welton, Librarian - Jane Austen College says:

"When I was younger, which is actually going on closer to 30 years ago, books like 'The Chronicles of Narnia' and 'Goosebumps', 'Secret Seven', 'Z for Zachariah' (to name a few) seemed to be the most popular books when I was at school.

They tended to be your traditional 'coming-of-age' story based in a setting that young people could relate to. When Harry Potter came along it seemed to reboot the entire landscape of Children and Young Adult fiction. These days it tends to be futuristic and dystopian stories set in a fantasy or horror type world that get the most attention.

There's a trend in novels in poem form - such as The Black Flamingo which consistently fly from the shelves. I'm finding horror (Frozen Charlotte, Horrorstor, The Dumas Club), fantasy and Sci Fi (Miss Peregrine's Home for Peculiar Children and Ready Player One) are always popular, along with graphic novels or stories in pictures (The Great War)".
Reading for pleasure is a priority across all schools with each dedicating at least one hour and 15 minutes each week to reading, whether it's independent, in pairs, or led by the teacher. This also includes opportunities for 'book talk' where students are encouraged to recommend books to each other.